API or Application Programming Interface is a set of rules and specifications through which software programs communicate with each other. Basically the use of API is that it sends different message for everyone not manually but automatically.
Using API, you can send SMS on automation by integrating it.
Click here to read our API Documentation.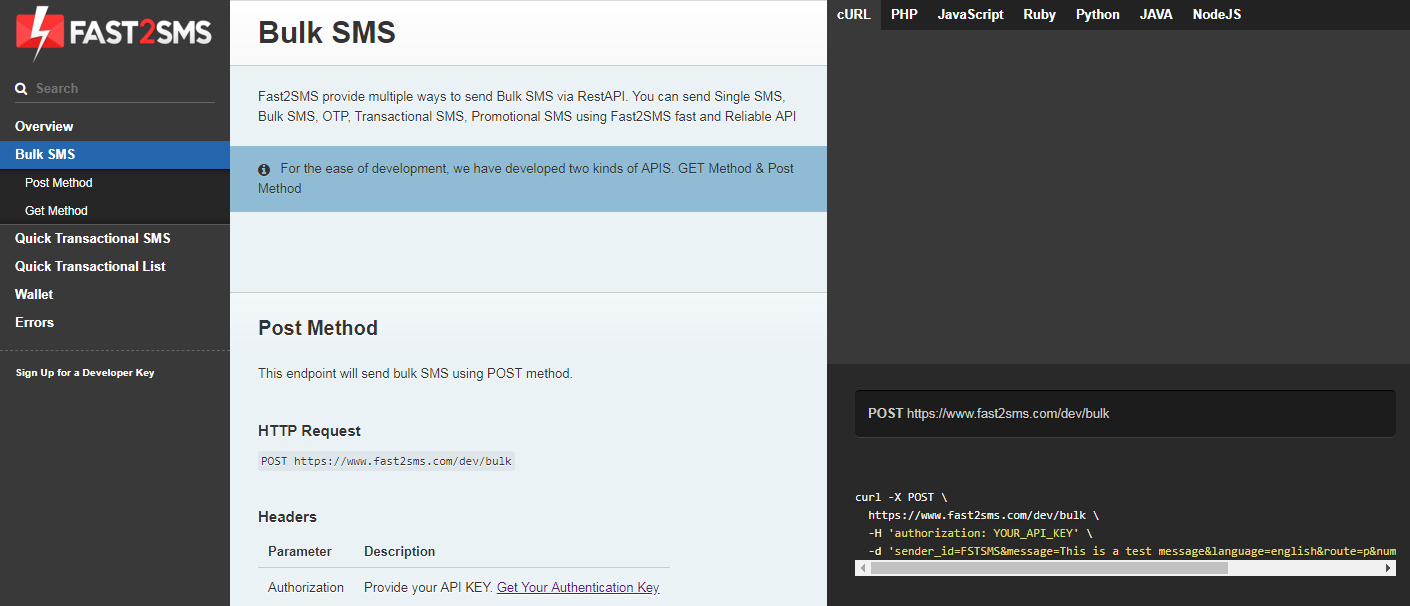 We provide Documentation in different languages like PHP, JavaScript, Ruby, Python, Java, NodeJS.
To use API, you need to have an Authorization Key.
As soon as you click on the Dev API option from the left side of the screen, the following screen will show up.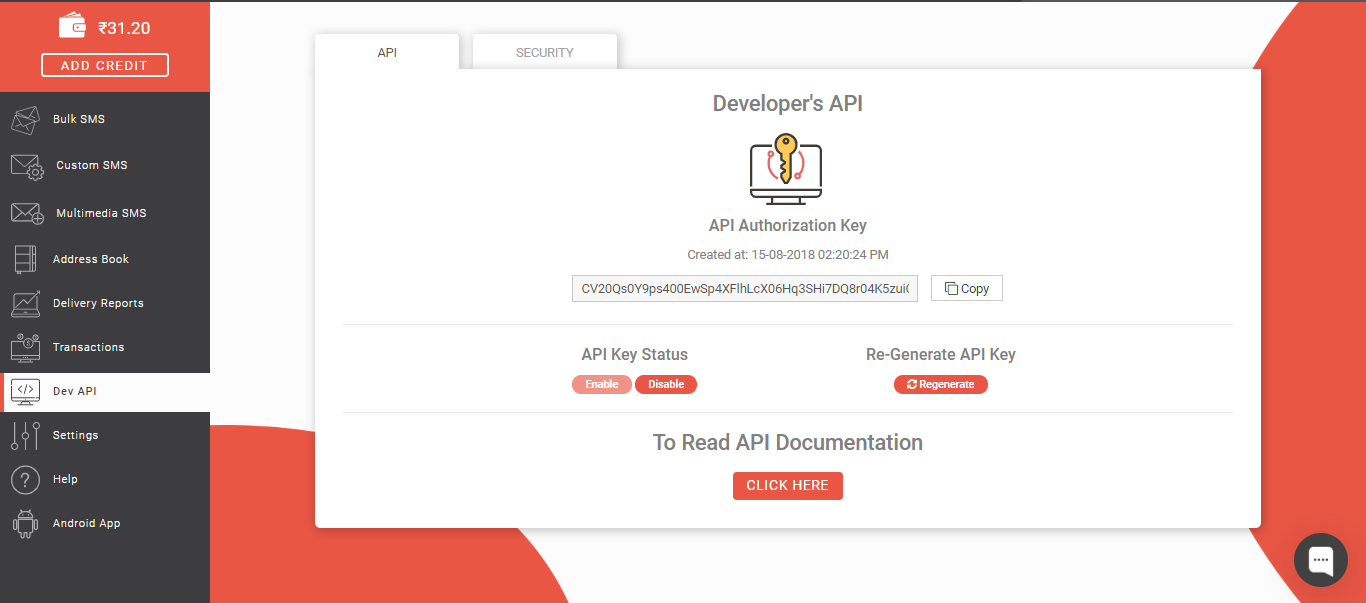 API Key Status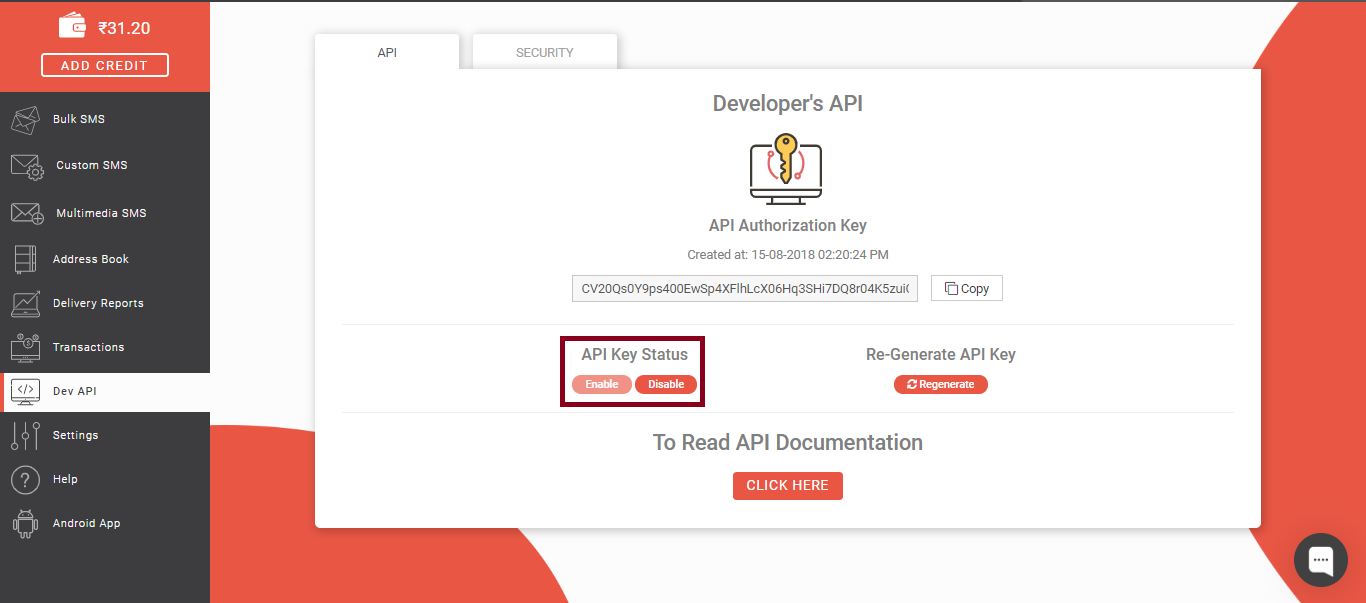 By default API key status is enabled in every Fast2SMS account.
Note : If you have disabled your API Key Status, then you cannot send SMS using API. So it must be Enabled if you want to integrate API.
Regenerate API Key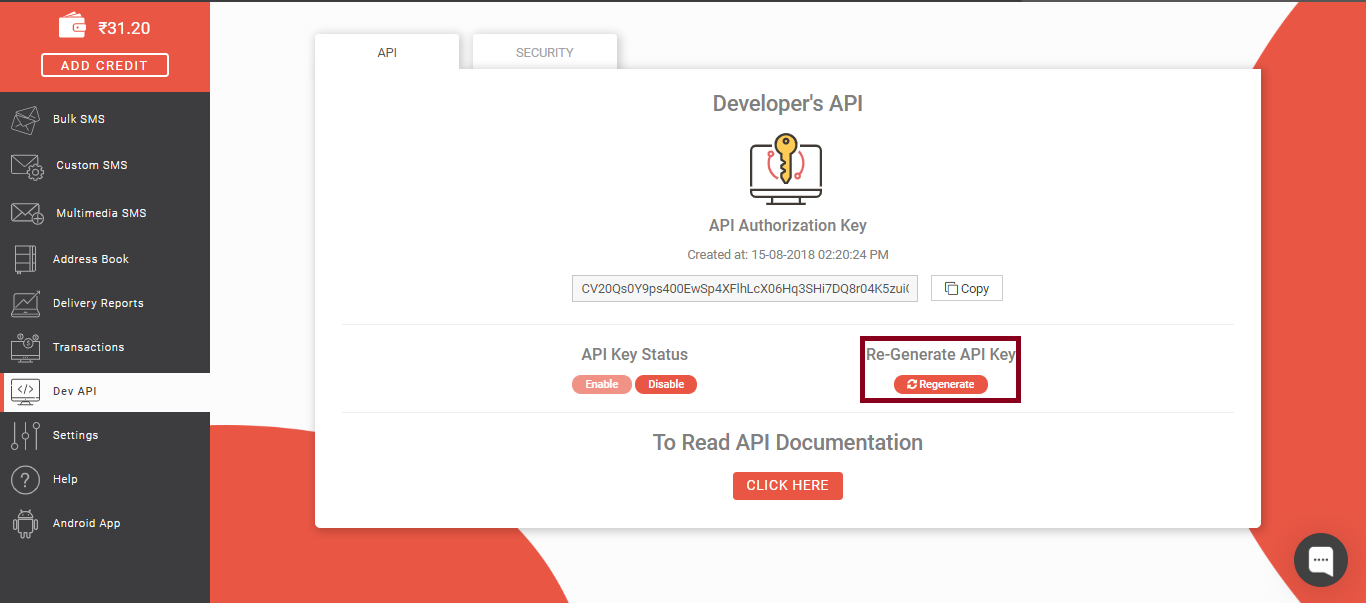 If your API Key is stolen, or somebody has its access and you don't want to get it misused then you can click on this option to Regenerate your API Key.
When you click on this option, your password will be asked to generate new API Key. Enter your password and then press Save. Your new API Authorization Key will get generated and updated.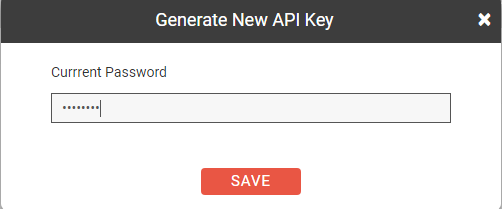 Note : If you get your API Key regenerated then you have to change the API Authorization Key on all previous API SMS also otherwise API SMS will not get send. Those SMS which you have sent  previously will not get called by this new API Key. You have to change the API Authorization Key on all previous messages then only they will get send.
Security
Next to API tab is the Security tab. When we click on the Security tab, it appears as shown below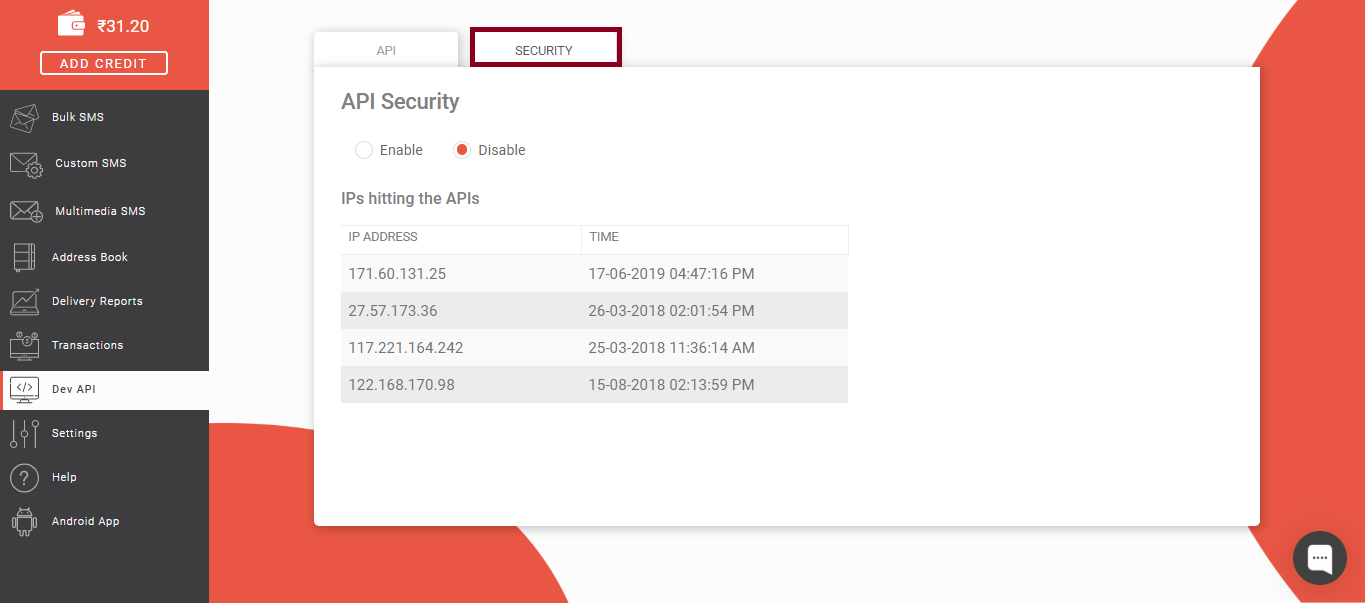 By default, the Security tab is Disabled in every account. When you click on Enable, only the IP address which you have added will hit the API. This enables two factor authentication and even if a person has your Authorization Key then also they cannot misuse it. Only the IP address which is saved here will hit the APIs.
As soon as you press Enable, a window will get open asking us to confirm to enable the security.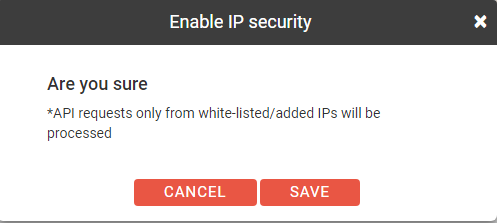 Click on Save to enable IP security.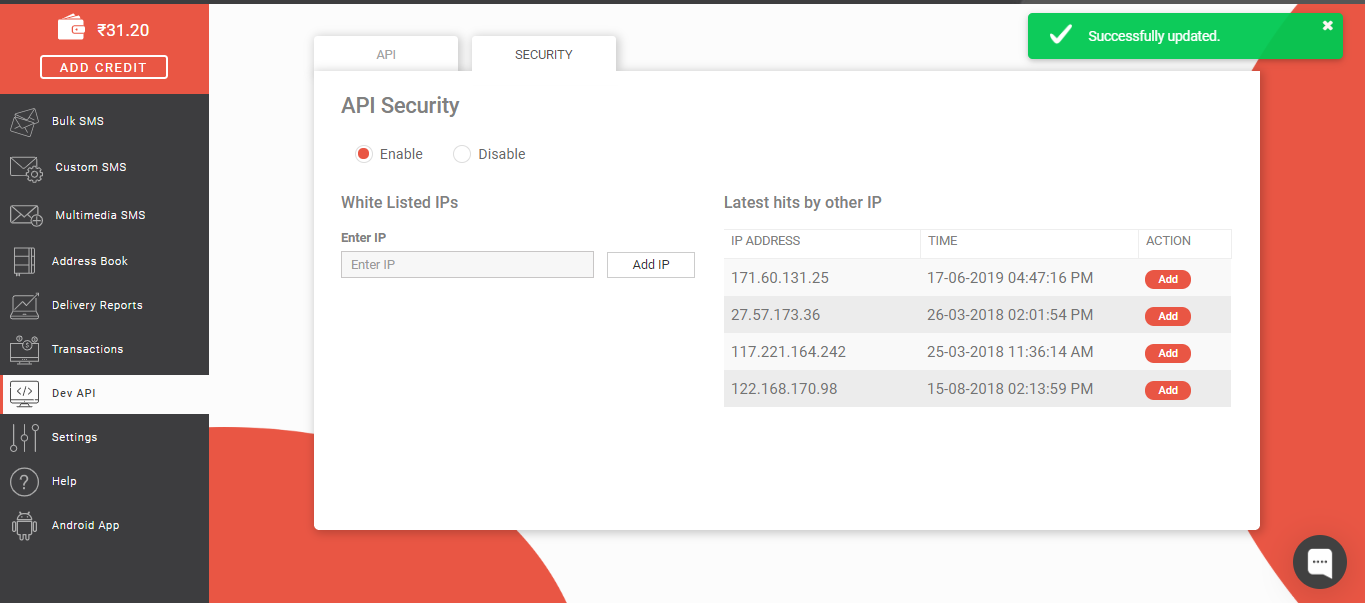 When you enter the IP address and click on the Add IP option then only the IP address which is added can hit the API. Thus it provides us extra security.
As we have added the first IP address in the list, that IP address is shown as White listed IP.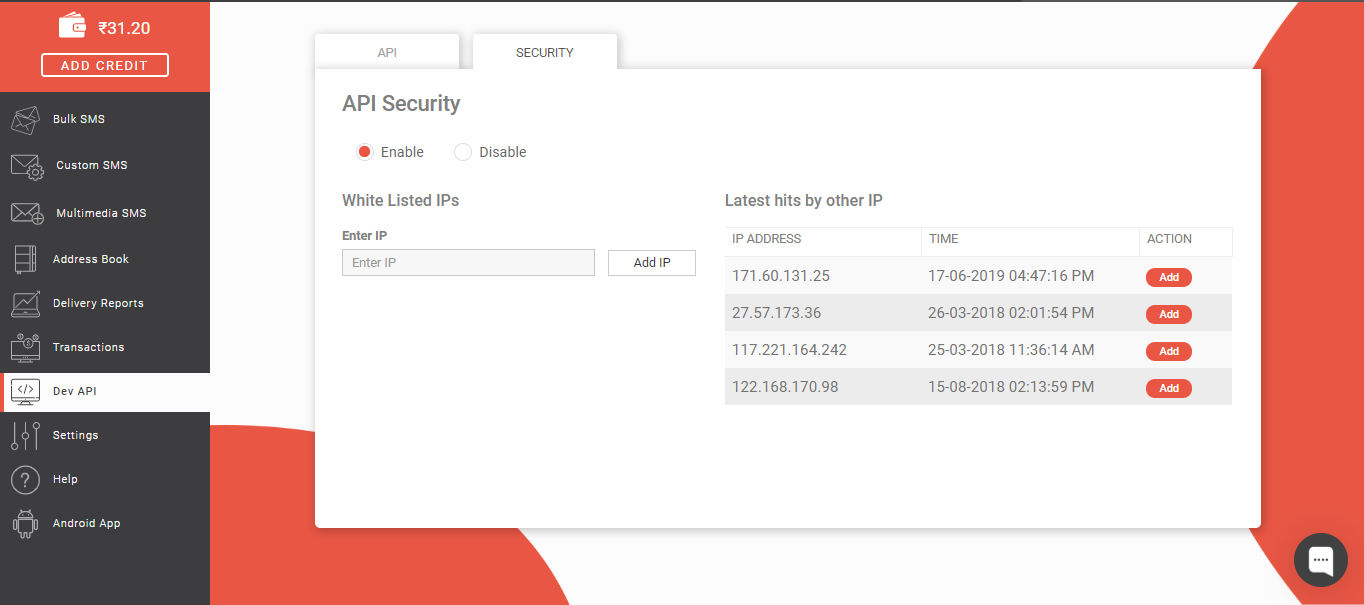 All your latest hits will be displayed in the right side of the screen. You can add the IP address either by clicking on the 'Add' button or you can enter your server's IP address directly in the Enter IP box. After entering click on Add IP. Your IP address will get added.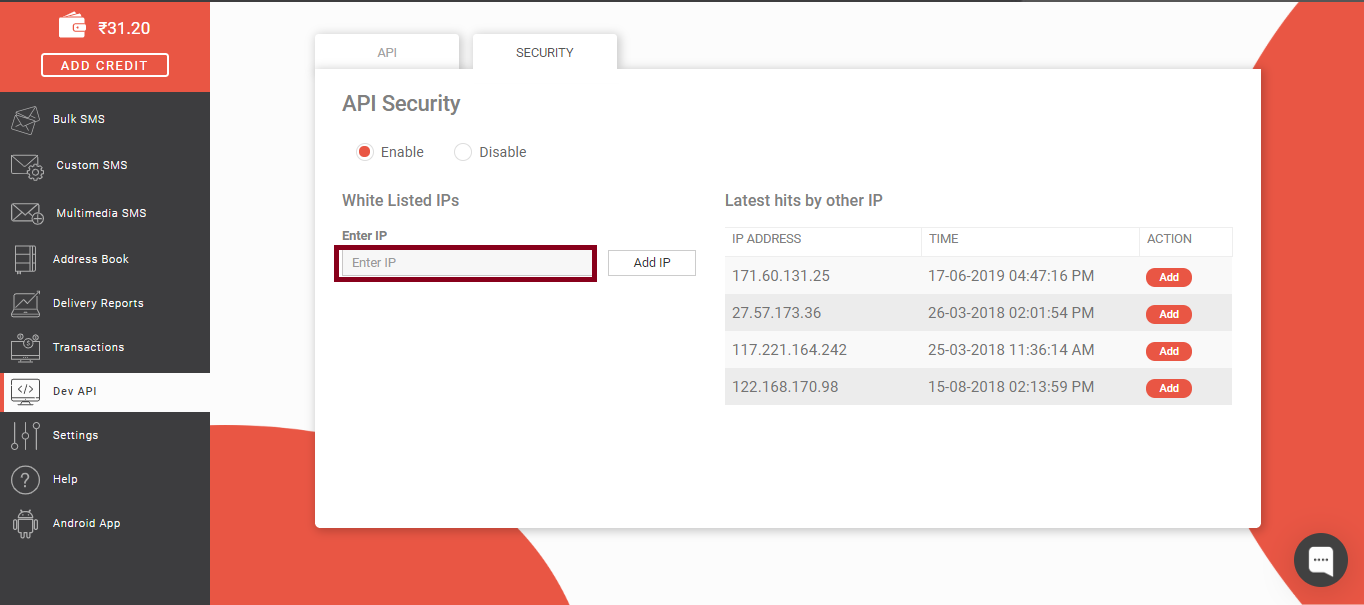 Check other related article: