Invite and Earn allows you to earn wallet credit in Fast2SMS wallet(not in bank account) when any different user signs up with your referral link. Credit is provided instantly when the referred user verifies his/her email id and mobile number. You can share the link with your friends, family, contacts and if they sign up and verify email you will get credit in your wallet. Try our bulk SMS service and make use of this excellent feature.
Process of using Invite and Earn
1. Click on the Invite and Earn option on the left. When you click on it, the following screen will be shown.

2. Copy the link and share with your friends, family etc. If the referral signs up and verifies email then you and the referral will receive Rs. 5 wallet balance in your Fast2SMS accounts.
When the person with whom you have shared the link opens that link, sign up page of Fast2SMS is displayed. They need to sign up with this link and after signing up, an OTP will come on their registered number. When they submit the OTP and verify their email then both the persons will get Rs. 5 credited in their Fast2SMS wallet.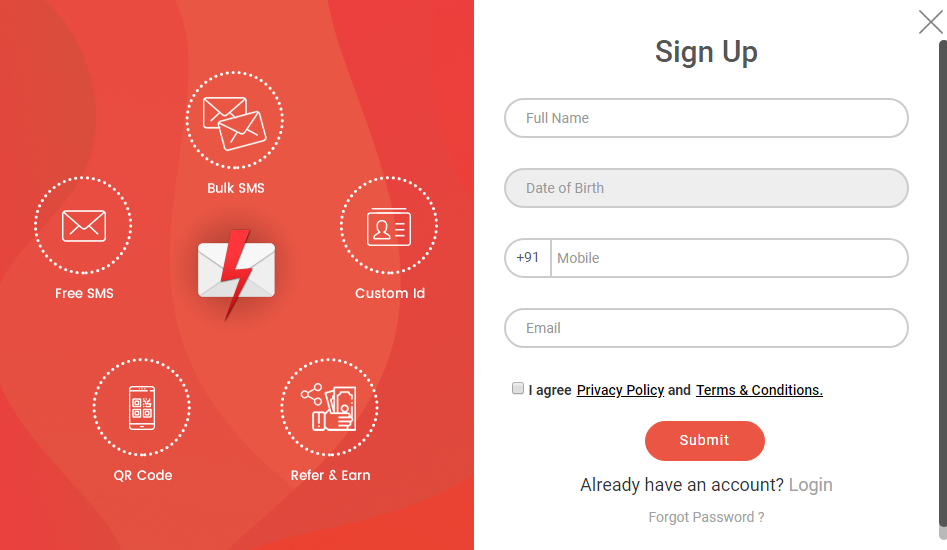 3. If you want to see whether they have signed up and verified email you can click on the Invite Data option above.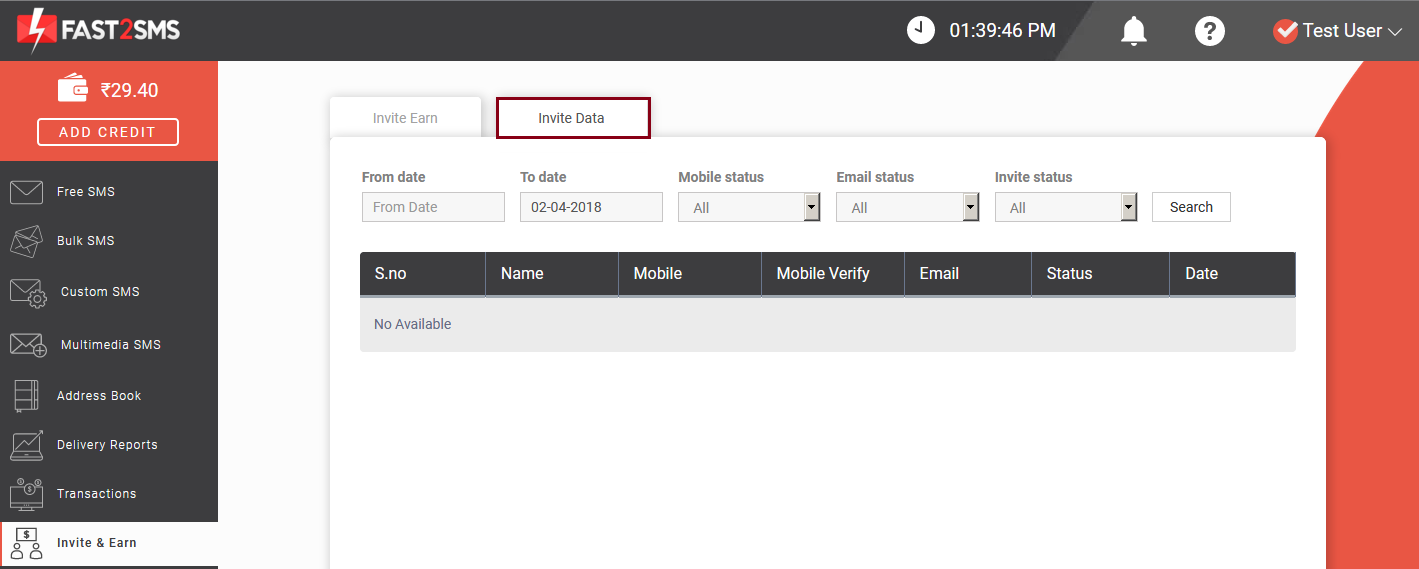 4. The below image shows the name, mobile number, whether that person has verified mobile and email or not and then the status is displayed. If the status is complete, amount will be credited to your wallet. All the information can be easily tracked in the Invite data option.

Invite and Earn Terms and Conditions
 1. You will only earn reward points when the referral signs up and verifies his/her email id. The status can be seen in the invite data option. If the status shows the message 'completed' then you are eligible for the reward points.
2. We don't promote any illegal/spam/offensive content on our site. You are not allowed to share the link on any banned, illegal or spam websites.
3. Amount will be credited only in their Fast2SMS accounts and not bank accounts. This amount can be utilized for the purpose of sending Bulk SMS only.
4. There is no limit of the number invitees to whom you can send the referral link. It is unlimited. You can send referral link to any number of people.
Check other related article: