How Invite And Earn System Works in Fast2SMS?
Fast2SMS is the fastest growing company in the bulk SMS services. It stand out from others as it understand your needs and has a simplistic approach adapted to meet customer's requirement.
We have built our credibility as a pioneer in the field of bulk SMS service providers in India. Considering our user's needs, we have initiated a very beneficial and interesting option for you guys. It is 'Invite and Earn'.
What is Invite and Earn?
Invite and Earn allows you to earn wallet credit in Fast2SMS wallet(not in bank account) when any different user sign up with your referral link. Credit is provided instantly when the referred user verifies his/her email id and mobile number. You can share the link with your friends, family, contacts and if they sign up and verify email you will get credit in your wallet.
---
Invite your friends and Earn wallet balance on every Signup – Visit Fast2SMS
---
  Benefits of using Invite and Earn
1. Reward points – On every sign up and verification, Rs. 5 will be credited to your account and your referral's account. Using this feature you can earn unlimited reward points which can be used for sending Bulk SMS. If you are a regular user of Fast2SMS then getting reward points can prove to be very useful.
2. Track all your referrals – You can easily track whether your referral has signed up and completed verification in the invite data section. Fast2SMS has a personalized separate section for managing your invites. It manages your invites data in a systematic format.
3. Easy to use – Fast2SMS has designed the Invite and earn feature in such a way which is very easy to use and follow. Anybody can take the benefit of this feature and earn reward points. We have made it very user-friendly.
4. Unlimited wallet balance – We at Fast2SMS provide you the facility to get unlimited reward points by inviting your contacts to sign up and verify. There is no limit on the wallet balance you can get. You are entitled to receive the wallet balance if your referral has signed up and completed the verification process. The major benefit is that, there are no restrictions on the amount you can receive. The maximum referrals you have, the maximum amount you can get.
Process of Invite and Earn
1. The first step is to login to your Fast2SMS account. Click on the invite and earn option on the left side bar. The following screen will be shown.

2. Copy the link and share with your friends, family etc. If the referral signs up and verifies email then you and the referral will receive wallet balance in your accounts.
3. If you want to see whether they have signed up and verified email you can click on the Invite Data option above.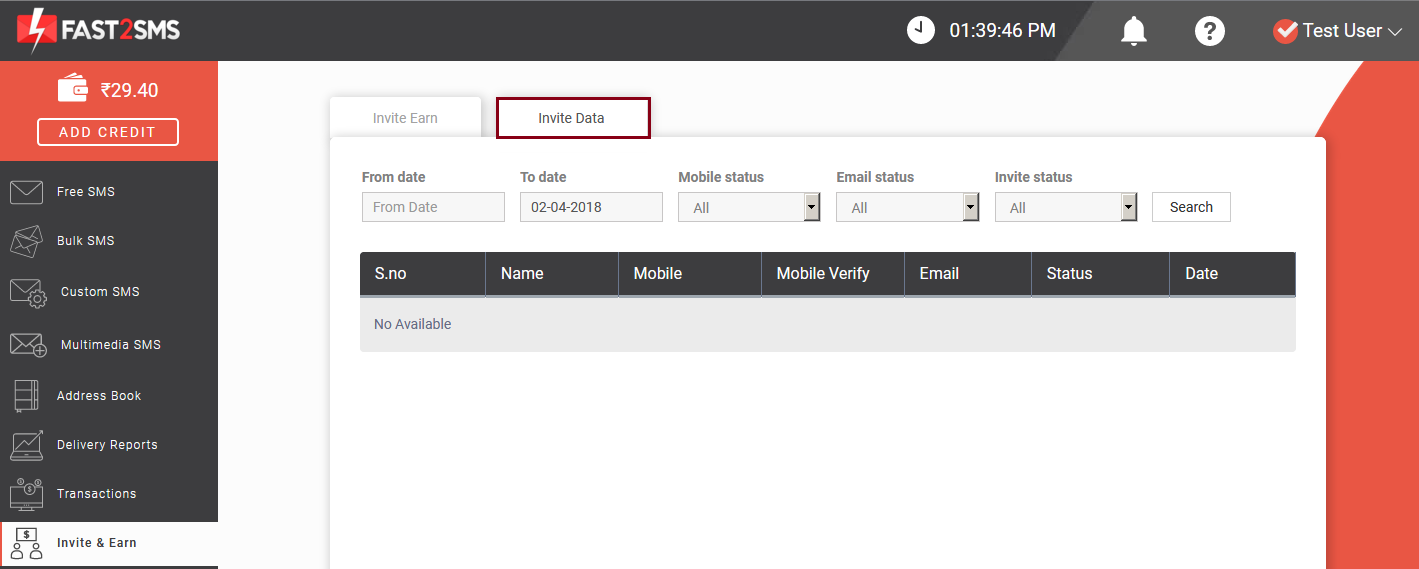 4. The above image shows the details of invited data. If you want to check who has signed up, what is the status , date etc, it can be easily find out.
5. The below image shows the name, mobile number, whether that person has verified mobile and email or not and then the status is displayed. If the status is complete, amount will be credited to your wallet. All the information can be easily tracked in the Invite data option.

Invite and Earn Terms and Conditions
 1. You will only earn reward points when the referral signs up and verifies his/her email id. The status can be seen in the invite data option. If the status shows the message 'completed' then you are eligible for the reward points.
2. We don't promote any illegal/spam/offensive content on our site. You are not allowed to share the link on any banned, illegal or spam websites.
Where you can promote?

You can promote the link on social networking sites likes facebook, twitter, instagram etc.
You can even share the link in your whatsapp groups, chats, emails and send personalized messages to your friends, family or acquaintances.
Fast2SMS considers its clients as their most valued asset and we continuously come up with different plans and exciting offers to make your experience the best. So don't forget to visit Fast2SMS and Sign up now.