What is transaction history and how does it work?
Transaction history is a detail record of the transactions which you have done. It contains all the details like transaction ID, amount, date, time, type of SMS, etc. It gives you a summary of the transactions in a comprehensive way.
How to view your transactions?
1. Login to Fast2SMS, click on the transactions tab in the left side. The following screen will be shown.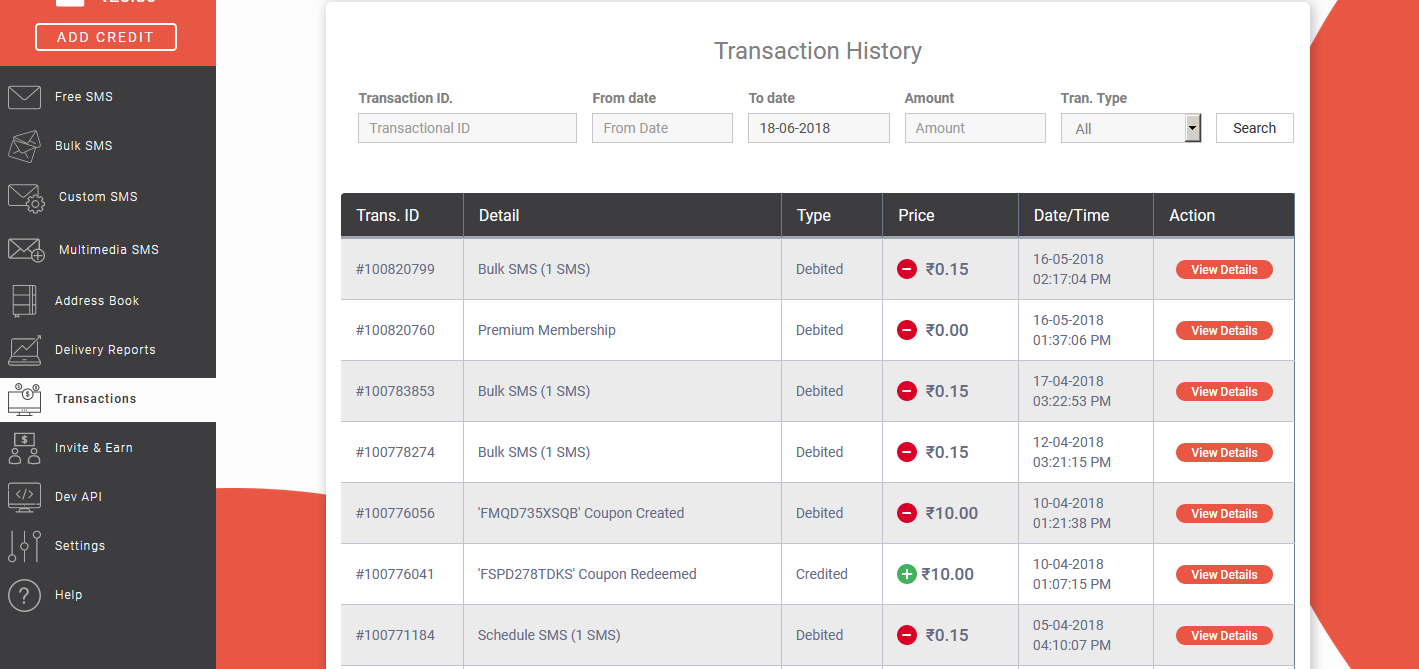 2. Now we will look into the different columns in the transaction history.
The first column is of transaction ID.
The second column has the details of the SMS.
The third column shows whether the amount is credited or debited.
In the fourth column price is shown.
Then in the fifth column date and time of the SMS is displayed.
And in the last column you can view the complete details of the SMS.
3. You can even search for an SMS by selecting any criteria like transaction ID, date, amount and transaction type.
Let us discuss one example of transactions and how it is checked.
Here we are seeing the transaction history of first SMS.

1. In the first SMS, all the details are appearing like
Transaction ID : #100820799
Detail : Bulk SMS (1 SMS) – It shows that one SMS is sent from the particular transaction ID.
Type : Debited – It means that amount is deducted from your wallet balance.
Price : 0.15
Date/Time : 16-5-18 is the date at which the SMS is sent and 02:17:04 PM is the time.
Action: View Details – Once you press the View Details button, a window will pop-up showing further details.

In this way you can see the details of the transactions you have made in Fast2SMS.