The desire of every church or any spiritual organization is to engage more and more people and communicate with their followers. Churches need a tool to connect with their followers on a daily basis. Bulk SMS for Churches is an ideal way to stay in contact with their congregation. Whether it is reminding people about an event in the church, sending notifications or prayer requests, bulk SMS is a perfect tool for sending all kinds of updates. Research has shown that 91% of people keep their mobiles within reach and SMS is read within 3 minutes of delivery. This has made bulk SMS service an ideal choice for churches.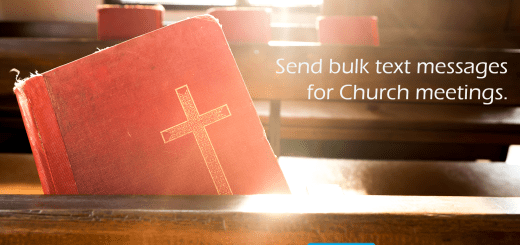 How to use Bulk SMS Service for Churches?
Send inspirational SMS – As we are more prone to stress and worry nowadays, reading something inspirational will help a lot in overcoming our stress and anxiety. You can send inspiring messages from Bible, prayers of faith, hyms, to your followers.
Event Organization – Bulk SMS is the best tool for sharing information related to events happening in the churches regularly. It can be used to invite people to Church programmes and spreading awareness about social causes.
Sending reminders – Keep your congregation aware about the daily activities conducted at your church. This encourages more participation of your followers and helps to connect with them.
Express gratitude – If any person has given a donation or has volunteered in your church, you can express thanks to them via an SMS. This makes them feel more valued and increase their participation in the church activities.
Bulk SMS for Churches Example
"And we know that in all things God works for the good of those who love him, who have called according to his purpose. Romans 8:28"
"We regretfully announce that Sunday's meeting at our Church has been cancelled due to unfavorable weather conditions."
Bulk SMS Service is becoming a favorable tool used by various non profit organizations, charitable institutions. Bulk SMS for churches is the best medium for interacting with followers as it is cost effective, has highest open rates and reaches the target within seconds. Choose the services of Fast2SMS. It is a famous bulk SMS provider in India and has over 2 million registered users. Sign up now and get benefited by our service.