Msg91 Alternative Website
If you are looking for an alternative of Msg91 (msg91.com), then you have come to the right place.
If you are willing to invest your money on bulk SMS marketing and don't know which bulk SMS provider to trust, then we have a suggestion for you. Try the services of Fast2SMS and reach the ladder of success. Our simple plans and pricing will definitely help your business to prosper thereby attracting more potential customers. Reach your clients in the fastest way possible and make them loyal towards your brand by interacting with them on a regular basis.
---
Sign Up Now at Fast2SMS

 – Click here
---
Advantages of using Fast2SMS
1. No Minimum purchase limit
There is no SMS number purchase limit in Fast2SMS. You can start sending bulk SMS even at Rs. 10. If you use Fast2SMS then there is no minimum purchase limit or purchase limit for sms.
2.  No Complex Structure
In Fast2SMS everything is explained clearly with detailed article on each topic. The process of sending bulk SMS in Fast2SMS is very simple to follow and proceed with. Our prime focus is to make the process user-friendly and easy to apply.
As it is shown in the image below of Fast2SMS, in the left side of the panel all the different sections are mentioned like free SMS, bulk SMS, custom SMS and so on. In the middle of the page different routes are given. Then to send SMS we have to select sender ID, mobile number, message and then it can be immediately send or scheduled for a later time and date. In the right side features of the route are described. At the top of the page, detailed article link is given so that we can send message easily and effortlessly.
Thus it shows how clearly everything is explained in the simplest way possible.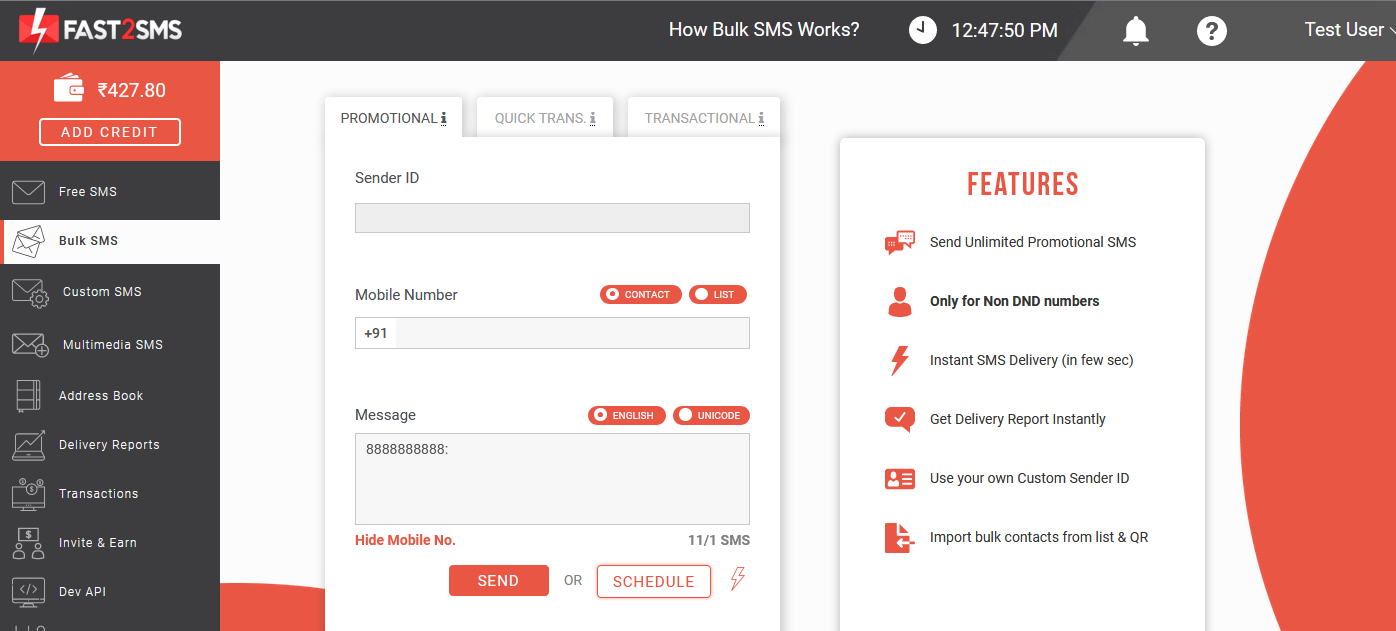 3. QR Code
QR is a uniquely designed bar code and launched firstly by Fast2SMS. This feature of adding contacts is not available in any other bulk SMS service provider company. In this feature, you don't need to manually enter your contacts. You just have to share the QR link with your contacts. Your contacts themselves will add their name and number and once they submit it, you will get all the details with you.
4. Quick transactional route
Quick transactional route is a new route launched by Fast2SMS in addition to promotional and transactional routes. It is for those who don't have a registered company. And they don't have to submit documents for verification. Quick transactional works as a boon for you if you don't have to go for the tedious process of document verification and approval.
5. No hidden costs
In Fast2SMS, there is no hidden costs involved. Transparency is maintained at all costs. We try our best to offer reasonable SMS prices and quality services.
Boost your revenue with the gift of bulk SMS and reach great heights in your business. Utilize the bulk SMS services of the most trusted platform of SMS that is Fast2SMS and reach your target customers in the fastest way.
Fast2SMS understands your requirements and differentiates your brand from your competitors, in such a way that it reduces the gap between the brand and the customer.