How to register for DND (Do Not Disturb)?
DND stands for Do Not Disturb mode. If you do not wish to receive promotional calls and SMS then you can register your number and activate DND in it. It will save you from all the annoying calls and SMS. This was an initiative by TRAI (Telecom Regulatory Authority of India) to protect consumers from all the unsolicited calls and SMS.
Reason to register in DND
It might happen sometimes that we are in a meeting or busy with some important work, at that time if a call comes on your mobile and that too a promotional call, we get irritated and disturbed. So to avoid that situation you can get your number registered in the DND mode. If a person registers his/her mobile number in the DND, then it will be illegal for telemarketers to call or send commercial messages on those numbers.
So without further ado, let us quickly checkout the two methods to register number in DND.
DND registration at TRAI
TRAI (Telecom Regulatory Authority of India) –  To guard the privacy of the user and effectively regulate unsolicited commercial calls and messages, TRAI has notified "The Telecom Commercial Communication Customer Preference Regulations, 2010". All the provisions of regulations come into force from 27th September, 2011.
Customers (landline and mobile) who do not want to receive commercial communications can dial or SMS to 1909 (toll free) and register in either of the two categories:
Fully Blocked Category- stoppage of all commercial Calls/SMS
Partially Blocked Category- stoppage of all commercial Calls/SMS except SMS from one of the opted preferences
For registering option using SMS, for 'fully blocked category', write "START 0" and send it to 1909. For 'partially blocked category', send SMS 'START' with one or multiple options from the list of seven categories.
There are at present 7 preferences to choose from- Banking/Insurance/Financial Products/Credit Cards-1, Real Estate-2, Education-3, Health-4, Consumer goods and automobiles-5, Communication/Broadcasting/Entertainment/IT-6, Tourism-7.
For example: To receive messages relating to only Health products, then send SMS "START 4" to 1909. Similarly, for receiving messages relating to Real Estate and Education, send SMS "START 2,3" to 1909.
On successful registration, customer will receive an SMS confirming exercised options and a Unique Registration Number within 24 hrs. The registration will be effective within 7 days of placing the request with the service provider. The customers can check the status of their registration by clicking on "Customer Registration Status".
Customer can also change the preferences after 7 days of registration or the last change of preference.
DND registration at Fast2SMS
 You agree to receive SMS from Fast2SMS.com even if you are in a DND (Do Not Disturb) list. Fast2SMS Bulk SMS Service offers you the facility to block your number. If you do not want to receive SMS from Fast2SMS then you can register your number in our "BLOCK YOUR NUMBER (DND)" feature.
To activate BLOCK YOUR NUMBER (DND) feature go to our site Fast2SMS.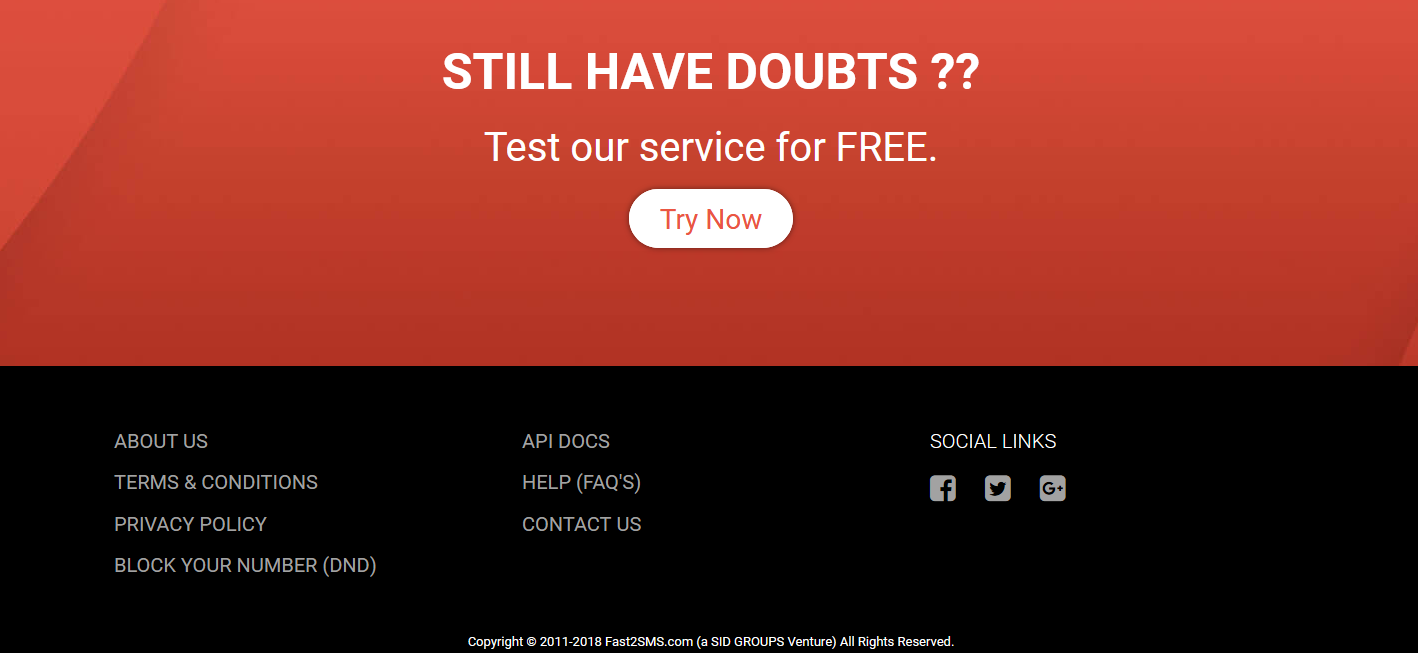 In the footer section, the last option is BLOCK YOUR NUMBER (DND). Click on that option. The following screen will show up.

Three options are shown in the above screen.
1. Block – First option is Block. In this click the block button if you wish to block messages from Fast2SMS. Just type your number and press next. Your number will be blocked.
2. Check – You can even check  to verify whether you have blocked messages from Fast2SMS or not by selecting this button.
3. Unblock – Click unblock button to unblock your number and receive messages from Fast2SMS again. Enter your mobile number to unblock and press next.
Hence you should avail this DND feature, if you are fed up with all the commercial SMS bombarding you with promotional offers, deals. Register your number and protect your privacy.

Watch Video – How to use Fast2SMS