How to schedule SMS in Fast2SMS?
Schedule SMS is an unusual but important feature in Fast2SMS. It gives you the liberty to send bulk SMS at a later date and time. At times it happens that we are busy and we forget to send the message at the exact time. At that time it will prove to be a boon to you and save a lot of time.
What are the benefits of using Schedule SMS?
Schedule SMS has a number of advantages.
1. The first and foremost advantage of scheduling SMS is that it proves to be a time saver. When the date and time are specified, the system automatically sends the SMS at that particular date. Hence we get relieved by the stress of sending and remembering when to send the message.
2. The second major benefit is that its a very easy process. You don't have to be manually present every time to send the SMS. All you need to do is type the message you want to send, then select the date and time. And the SMS gets sent on that date. That simple it is to use. It is a very convenient way to send messages at a future date.
3. It can be used by each and every person. It can help business owners to send product offers to their clients. It can even be used by organizations, NGOs, charitable trusts and will prove really effective to the brand manufactures for conveying lucrative offers and deals to their customers.
4. Another important benefit is that we can schedule the SMS so that it gets delivered at a convenient time. The time we specify at the time of sending the SMS, it gets delivered at that exact time. It will surely increase customer responsiveness as the message is not sent in the odd hours, which will also lead to an increase in receptivity of the message.
This is the most useful and unique feature offered by Fast2SMS. This can be specially used when you have to send reminder messages for a meeting or an event. It is also used to inform customers about some new product or service launched etc. You can utilize this feature and make the best use of it by scheduling your messages prior to any important festival, new year etc. Schedule SMS, sign up now.
Steps to schedule SMS in Fast2SMS
1. Login to Fast2SMS. Select the route.
2. Select the Sender ID. Enter the mobile number.
3. Type the message in the message box and click on schedule button.
4.  In this we have to select the date and time as shown above. Select the date and time as per your requirement and click on the schedule button. Message gets scheduled and will reach at the desired time.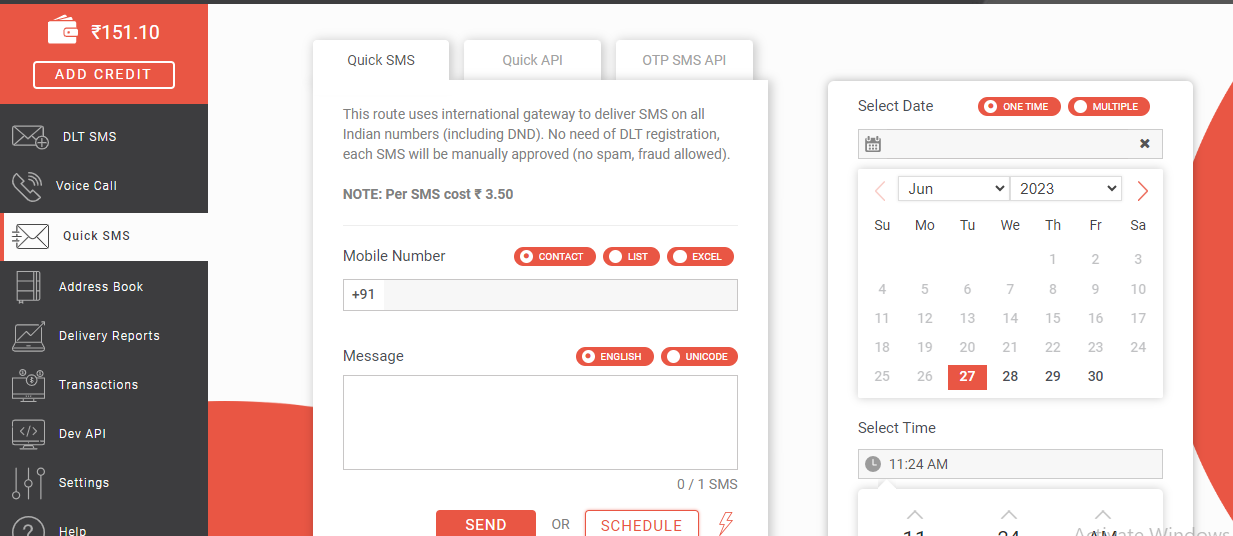 Schedule SMS is one of the best and latest feature offered by Fast2SMS. It is gaining popularity with the passage of time. It serves as a very convenient way of sending SMS at an appropriate time and not disturbs the customer in the odd hours. So make sure to try this feature once and you will love it.

Watch Video – How to use Fast2SMS