How Survey Company can benefit from Bulk SMS Service?
In today's competitive market scenario, understanding consumer's preferences is crucial to stay ahead of the competitors and improve the service quality. Surveys are frequently conducted for collecting data from a pre-defined group of consumers to obtain insights on the quality of services or products. In order to retain loyalty among the customers and provide customer satisfaction, businesses are conducting surveys to measure the effectiveness of their campaigns and gain valuable feedback. The traditional methods of gathering information like telephonic calls, emails, face to face surveys are costly and time consuming activities. Bulk SMS Service for Survey Companies is a quick, effective and convenient tool for collecting feedback in an affordable manner. In this article, we will be discussing the importance of using SMS Service for conducting surveys and also the ways in which it can be started.

Why Bulk SMS Service is beneficial for Survey Companies?
Having the highest open rate of 98%, Bulk SMS Service has surpassed all other conventional channels for gathering information from customers. As per the studies, it is stated that 95% of messages are opened within 3 minutes of being delivered and the average response time for SMS is just 90 seconds. Thus, using SMS enables businesses to access a real-time feedback in a much faster way than any other tool. Furthermore, implementing Bulk SMS allows you to connect with a wide range of customers in a short span of time.
Advantages of using Bulk SMS Service for conducting surveys:
Fast response rates
Easy integration
Speedy data collection
Analyse results in a hassle-free way
Convenient channel
Cost-effective tool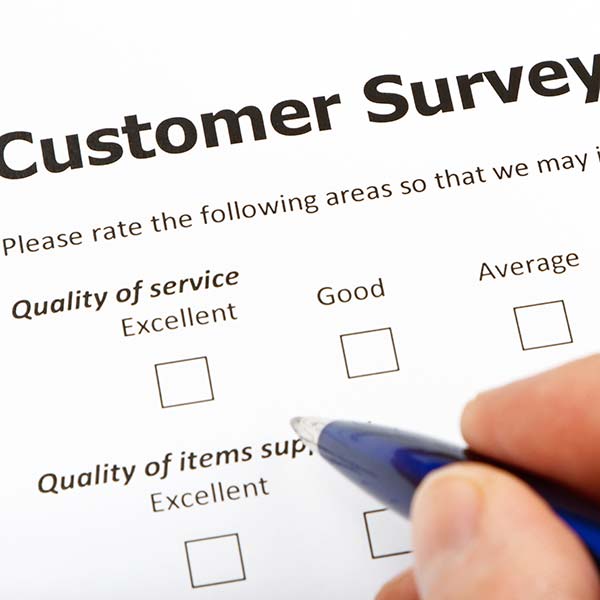 Case Study of a business using SMS Surveys
IKEA is a renowned furniture retailer offering an extensive range of furnishing products at affordable prices. IKEA was facing challenges to get feedback from the customers who did not have a great experience and as a result they were losing customers. Conducting surveys using Bulk SMS Service allowed them in strengthening their offerings to provide a quality-driven service. Implementing SMS Surveys greatly helped them in enhancing personal contacts with the customers thereby increasing the engagement rates. Thus, they were able to evolve along with consumer buying habits and started offering the best customer service. Sending surveys via text messaging has helped IKEA in building personal relationships with the clients thereby adding value to their goodwill.
Ways in which Survey Companies can incorporate SMS Service
1. Phone support feedback: Bulk SMS is a great tool to gauge customer's feedback after ending a phone conversation. As SMS reaches the target customer directly without any intermediary, primary data regarding customer support service can be obtained easily so that adequate steps are taken to improve the quality of support. Hence, sending an SMS to rate the support immediately after having a telephonic conversation allows the companies to get instant feedback.
Example:
Dear Customer,
Hope your query has been resolved. Please click this link to share your valuable feedback regarding our call support executive. Thank you!
2. Purchase feedback: Keeping your customers happy is the key to the exponential growth and success of your venture. Gaining feedback is important as it helps in the analysis of the product or service enabling a business to offer value and serve the customers in an efficient way. Bulk SMS surveys allow a business to identify the unhappy customers so that immediate action can be taken regarding the complaints. Whenever a purchase is made from a store, an SMS can be sent to the target customer to learn about their purchase experience.
Example:
Dear Customer,
Thank you for shopping with us. We would really appreciate if you fill this short survey regarding your recent purchase which will help us in offering you the best quality products.
3. Service feedback: Feedback for the service helps a business in analyzing the ways in which it can improve its service quality and also the suggestions which helps a business to stand out from the rest of the competitors. SMS is an ideal medium to collect feedback as it is fast compared to an email and less intrusive than a phone call. If you want to gather the feedback of the service provided by your team, you can send an SMS to get instant feedback. It allows a business to get the results in an accurate way thereby helping them to offer an excellent customer service.
Example:
Dear Customer,
We want to provide the best service to all our customers. Please provide your precious feedback by visiting this link. It takes a minute but it makes a difference. Thank you for your cooperation.
4. Delivery feedback: Customer feedback is utmost essential in providing good quality products and services. Requesting for a feedback after a product is delivered gives valuable insights on what should be done to improve the delivery experience. Gathering their suggestions, opinions, views regarding your product and service is helpful in increasing satisfaction and loyalty among customers resulting in an escalated growth of your business. SMS is a perfect tool to collect delivery feedback as it has the capacity to connect with a wide range of target audience in just a click of a button.
Example:
Dear Customer,
Thank you for purchasing with us. We are working hard to build a quality product and we would be glad if you share your feedback regarding the product delivery. Your opinion is important to us.
5. Market research: Before launching any product or service, every business conduct market research to gather data about customer's preferences so that a good quality product can be offered to them. It can help in identifying opportunities, minimize risk, and also serve as an important tool for measuring the emerging trends in the marketplace. Bulk SMS Service serves as an efficient and affordable channel for conducting market research as it has the ability to connect with the target group of customers in a personalized and most direct way.
Example:
Dear Customer,
Please click this link and share your suggestions, feedback regarding our latest product. We would truly appreciate if you fill this feedback form and help us in offering the best quality products.

Customer feedback is necessary if you want to detect the areas lacking perfection helping you to stay ahead of the competition. Bulk SMS Service for Survey Companies is an ideal channel for collecting feedback as it is easy to implement, has the highest open rates, and is a flexible medium to communicate with the target group. Choose the Best Bulk SMS Service of Fast2SMS and reach your customers at the earliest. Fast2SMS is a pioneer Bulk SMS Service Provider in India offering promotional, transactional and OTP SMS at the lowest rates in the industry. We promise to provide the most transparent, accurate and exceptional quality Bulk SMS Service that can greatly help in establishing speedy communication with your clients in just a single click of button. To show customers their opinion matters, a feedback is essential to retain the clients and promote their loyalty towards the brand. Collect feedback using the Bulk SMS Service of Fast2SMS and build a mutually rewarding relationship with your clients. Register with us today and communicate with your target group on the go.