What is DND and non DND number? How can you de-register from it?
DND stands for 'Do Not Disturb'. As per TRAI regulations, if a person registers his or her number in DND then they will not receive any kind of promotional or marketing SMS/calls. Whereas non DND numbers will receive all kinds of promotional and marketing SMS/calls.
Note : In the promotional route SMS can only be sent to non DND numbers within the time frame of 9 AM to 9 PM only.
You can send non promotional SMS to both DND and non DND numbers using the quick transactional and transactional route.
If you wish to check whether your number is registered with DND or not then follow the steps below:
1. Visit the site www.nccptrai.gov.in
2. Click on the link 'Customer Registration Status'.
3. Following screen will be displayed. Enter your mobile number and press Search.

4. In the image below, it is shown that the number 9999999999 is registered with DND.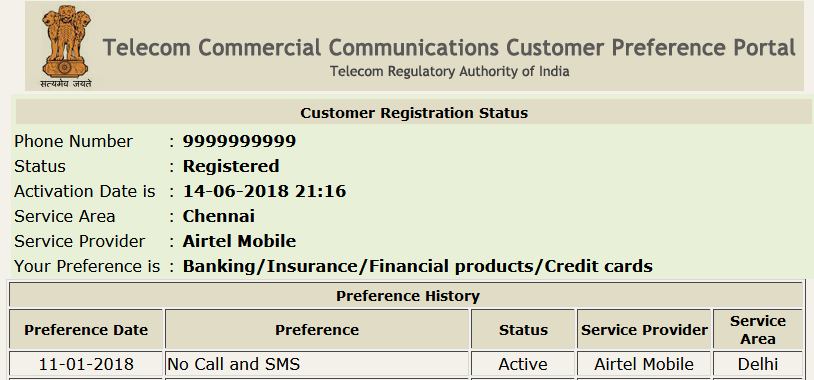 In this way you can check whether a number is registered in DND or not.
How to De-register from DND?
You can De-register yourself from DND and allow the marketing calls and SMS by following the steps below. You will start receiving commercial communications on your phone after de-registration.
There are 2 methods of De-registering.
1.  By call
2. By SMS
1. By call – Dial 1909 and choose the method of De-registering
A. Through Customer Care Executive – Call 1909 and ask the customer care representative to De-register your number. The customer care executive will accept and give you confirmation of the same. You will also receive an SMS confirming your De-registration.
B. Through IVRS(Interactive Voice Response System) – In this also the process is same, you have to call 1909 and follow all the instructions in the automatic call to de-register your number. Once it gets completed you will receive an SMS regarding the same.
2. By SMS
You can also de-register your number by SMS.
Send SMS "STOP" to 1909. You will get an SMS informing you of your deregistration request and seeking your confirmation through SMS. Send message again confirming your request. When the de-registration is done, you will get a message confirming your de-registeration.
In this way, you can deactivate DND from your number.