What is going to change in Indian Bulk SMS (Before & After)?
Despite imposing Do Not Disturb (DND) activation facility and adopting suitable measures to prevent spamming, the problem of unsolicited SMS is increasing at an alarming rate. Customers continue to suffer from the unsolicited texts, unwanted SMS and phishing messages even after activating the DND service.
In order to safeguard consumers' interest, TRAI has notified The Telecom Commercial Communication Customer Preference Regulation (TCCCPR) 2018 and has issued certain guidelines to prevent fraudulent practices and bring an end to spamming.
The system will be managed using Distributed Ledger Technology (DLT). According to the revised TRAI guidelines, every individual/business needs to register with the telecom operators on the DLT platform in order to continue sending SMS to their clients and customers. Each Individual/Business(Principal Entity) and Telemarketer will be accountable to telecom operators(Access Providers) who will be directly accountable to TRAI. As shown in the image below, all the five entities will be interconnected with each other in a structured manner thereby enhancing security and confidentiality in the framework.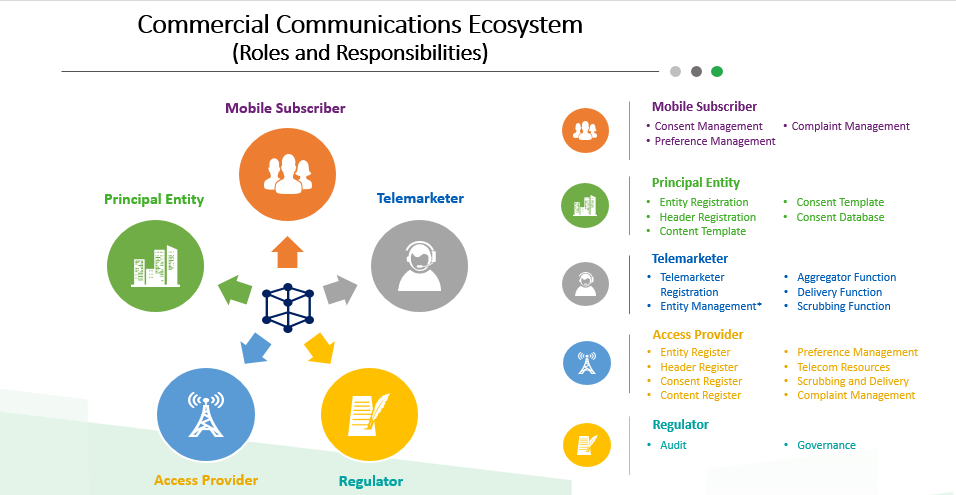 Comparison between the previous and new rules governing the Bulk SMS Industry
| Features | Previous Scenario | New Scenario |
| --- | --- | --- |
| Entity and Telemarketer Registration | Only the Bulk SMS Service Provider Companies were required to register with TRAI and no registration was required for the Individual or Business owners who want to send SMS to their clients. | As per the new rules, both the Bulk SMS Service Providers and Individual/Business owners have to register with the Telecom Operator to continue sending SMS to their clients. Registration is mandatory for every entity. |
| Header and Template Registration | Header was known by the name of Sender ID. And the approval of Sender ID, templates was in the hands of the Bulk SMS Provider from which you were purchasing Bulk SMS Service. | As per the updated rules, each Header and Template has to be approved and registered with the Telecom Operators. The Bulk SMS Service Provider Company will no longer have the control to approve the Sender ID and Template. The Header should have a unique identity and have to be submitted for operator's approval. After it gets verified and approved, you can send SMS using your header which will have a unique ID. |
| Message Type | There were 2 main routes for sending SMS - Transactional and Promotional. Transactional route was used for conveying informative SMS, alerts, OTP and Promotional route was used for sending marketing SMS related to offers and discounts. | In the latest update, 3 routes have been introduced – Transactional, Promotional, Service(Implicit and Explicit). As per the new rules, Transactional route will be reserved only for the banks for sending OTPs. And if a business wants to send informative, alert SMS then that will come under the Implicit category in the Service route. If a customer has opted to receive promotional SMS from a particular company then it will be come under the Explicit category. Whereas, a brand can send marketing messages to Non DND numbers using the Promotional route. |
| Customer Consent | The option of Customer Consent was not there in the previous rule. | The customer is given complete control to receive SMS from any brand or company and can even cancel their consent at any given time. |
| Customer Preferences | Earlier customers only had the choice between DND and Non DND. Promotional Messages were sent to Non DND numbers only within 9 AM to 9 PM and messages sent from Transactional route were delivered to both DND and Non DND numbers 24/7. | The new rule offer the customers to set preferences to receive messages according to their will and can change it anytime. It means that even if a customer has activated DND, he can still receive promotional text from a company if he has permitted the same. Also, the customers can provide a time frame for receiving promotional texts. Example, if a customer has permitted to receive promotional SMS from 4 PM to 6 PM then promotional SMS will only be delivered within the specified time limit set by them. |
| Scrubbing Function | Messages were filtered on the basis of DND and Non DND only. | Messages will be filtered in real-time and the results will be applicable instantly. For example, if a customer has given consent to receive messages from ABC Enterprises on Friday from 5 PM to 6 PM. But he withdraws the consent on Friday 2 PM, then no SMS will be delivered to him at 5 PM to 6 PM. Filtration requests are immediately processed and monitored in real-time. |
| Complaint Management | Complaint Management system was not very strict as there were delays in addressing the customer grievances. | In the updated TRAI rules, customers can register complains regarding the violation of their preferences directly in the panel using call and SMS. Immediate action will be taken regarding the customer complaints and huge penalty will be imposed to the violators. |
| Interoperability between telecom service providers | This feature was not present previously. | Each telecom operator will be able to view all the details of the customers and businesses directly at their end. |
| 100% Traceability | It was difficult to obtain 100% Traceability in the Bulk SMS Mechanism. | The whole panel will be administered using Blockchain Technology and can be traced back at any given time. Each entity will be interconnected with every other entity thereby helping in regulating the activities in a transparent manner. |
These guidelines have been formulated to overcome the problem of unsolicited SMS and prevent the occurrence of fraudulent practices. The TRAI regulations are aimed to protect customers' privacy, eliminate spamming and will aid in establishing an authentic code of conduct in the Bulk SMS Business.
Check other related articles: