How to contact support team?
We at Fast2SMS ensure that you get the best experience of bulk SMS marketing. For our users convenience, we have made a user-friendly interface. We have made our system versatile, adaptive to use. Enhance your advertising campaign with us and reach your target audience easily. Our support team is always ready to help you.
For your comfort and queries we have made a help section wherein you will find answers to all your doubts. Here you will find all the Frequently Asked Questions( FAQs). Make sure to check them.
Following are steps to contact support team
1. Login to Fast2SMS.
2. Click on the Help section at the left side of the panel. The following screen will be shown.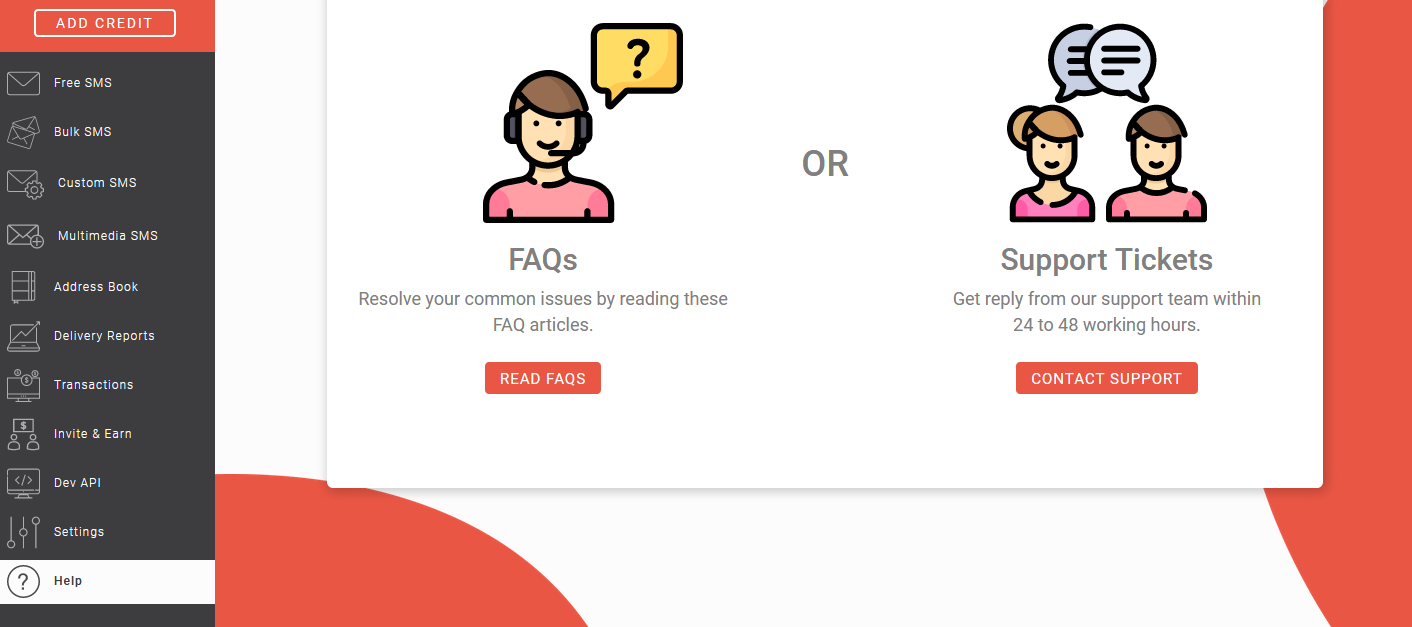 3. Click on the Read FAQs, if you are having any doubts.
4. If your answer is not there in the FAQs section or you are facing some different issue then you can reach out to us at Contact Support. Click on the contact support button.
5. A dialog box will appear. Fill all the details. First select the category which describes your problem.Suppose you have a wallet related issue. Select wallet related in the category. Then type the subject. Then write the details of the problem. After that click on the Submit button. We have taken an example below to make it easy to understand.
6. Our support team will reply to your message within 24 to 48 working hours.
Feel free to reach out to us and do check the FAQs, they will prove to be of great help. We make sure to reply to each of the message within 24 to 48 hours itself. Our goal is to give you the maximum return on your investment. Don't forget do visit Fast2SMS for sending bulk SMS in the most affordable and expedient way.