What is Promotional Bulk SMS?
Bulk SMS Service has become a trending tool nowadays for staying connected with customers. Though there are other useful mediums as well like print, web, social media but bulk SMS with the capacity to reach thousands and thousands of customers at a single click is the preferred choice for every industry. There are 2 types of bulk SMS – Promotional SMS and Transactional SMS. What is Promotional Bulk SMS? 
Promotional Bulk SMS are the sales and marketing messages intended for promoting a product or service. The sole purpose of these messages is brand promotion and advertising. These messages can be sent only to non DND numbers within a time frame of 9 AM to 9 PM.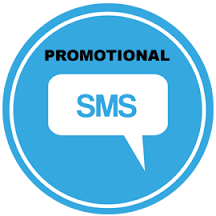 Example of a Promotional Bulk SMS 
Dear Customer
"Get 50% discount upto the purchase of Rs.5000. Visit us for more details."
Promotional Bulk SMS Uses
Communicating with clients regarding discounts.
Informing about new product offers, sales, schemes.
Promoting a product or service
Advertising a brand
Promote your business using the Fast2SMS Bulk SMS services and build a mutually rewarding relation with your clients. Fast2SMS has a robust gateway with affordable SMS prices which makes interacting with your clients super easy.

Features of Fast2SMS
Quick transactional route – It is a unique offering by Fast2SMS in which we can send transactional SMS without submitting documents for verification and approval.
QR code – Another interesting feature is the QR Code which you can use for adding contacts.
Unicode SMS – Using this amazing feature you can send message in any regional language.
Schedule SMS – You can even postpone your message to be sent at a later date and time.
Free SMS for testing – Fast2SMS offers the facility to test its services by sending free SMS.
Other features – Some other notable features are Multimedia SMS, API SMS, Custom SMS
Sign up now at Fast2SMS and start sending promotional bulk SMS instantly. Promotional Bulk SMS is sending marketing and advertising messages to customers related to offers, deals and discounts.